---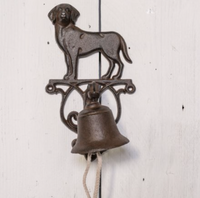 Traditional Cast Dog Iron Doorbell
This traditional, rustic cast iron dog doorbell has beautiful craftsmanship. Hanging this traditional cast iron doorbell with its decorative dog design next to the front or back door, allowing guests to announce themselves before entering. Perfect for a dog lovers home. 
A decorative cast iron bell with a crafted dog design and a truly fantastic ring! Just swing the sturdy cord from side to side, allowing the cast iron ringer to strike the body of the bell, creating a strong tuneful ring.
Free shipping within UK!
World Wide Shipping available
Please allow up 3-7 days for delivery
Wall fixing not included 
Manufactured from cast iron, this heavy weighted wall or door mounted doorbell features a standing dog and a traditional style bell.
Designed to be installed onto the outside of your property onto a solid surface.
Easy to clean, simply wipe away any dirt. This marvellous dog doorbell is designed to withstand all weathers.
Beautiful classic scrollwork highlights this doorbell
A classic piece for any home decor
Made of durable cast iron with an antique rust finish
Size approximately 14cm x 14cm x 25cm